Phase 4 Design, Inc has been providing solutions to businesses across North America for over 25 years. We have chosen the TELEX RADIO DISPATCH products as our RoIP dispatch system of choice and provide services targeted for their system operators.
In addition we provide multimedia, on-line training. In 2013 we launched our 2 Day RoIP Boot Camp for Telex integration. It has been a great success and prompted us to create a new on-line offering. In 2016 we launched our 4 Day Basic 2-Way Radio Online course. In 2022, we migrated the class to our 2-Way On Demand format. This new class presents a technicians view of 2-Way Radio and what is required to do the job.

Now Available ->On-Demand Basic 2-Way Radio Training!!
RealTime Remote Support now Available for your Telex RoIP System!

Through the use of new advanced conferencing and remote pc control software, Phase 4 Design now has the ability to join your design meetings, troubleshooting sessions or even take control of your Telex C-Soft Console to do updates and repair remotely, in real time!
We can also pre configure the hardware for your project and provide remote install support for you!
We will build custom cables and enclosures for your Telex equipment.

On-Line Remote SIP Upgrade for Telex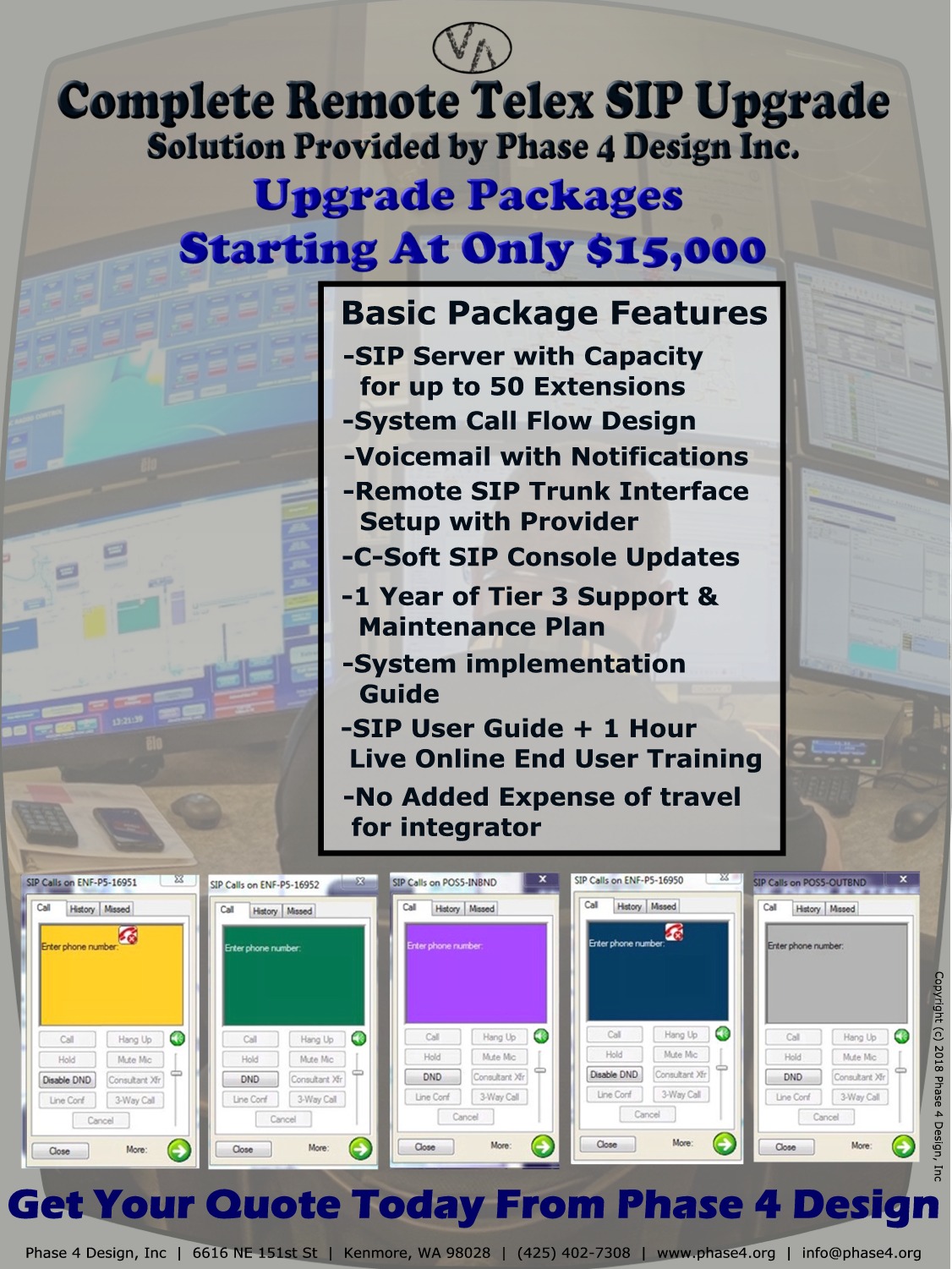 << Click image to view full size flyer
Integrating SIP into a Telex C-Soft console can be a challenge. Through the use of modern technologies we have developed a method that allows us to upgrade your C-Soft System to include SIP phone calls in the same headset as the radio traffic. And we can do the upgrade without ever incuring any travel costs.


Contact us at 425-402-7308x2 or info@phase4.org for more information.
| TELEX RADIO DISPATCH PRODUCTS | LAN and WAN IT NETWORKS |
| --- | --- |
| C-SOFT Console Development | Server Room Design and Provisioning |
| RoIP Network Design | Remote Network Maintenance |
| Targeted Training | 24/7 Network and Server Support |
| RoIP System Documentation | Router Configuration |
| 24/7 System Support and Upgrades | Project Based Consulting |
| Turn-Key Systems | |
| | |
| TELEPHONY SYSTEMS | |
| Analog / SIP PBX Provisioning | |
| Asterisk Dialplans | |
| Digital Trunk Provisioning | |